I am sure that by now you are wondering when I am going to post pictures of "real Chileans"
(my sisters asked me to hahaha), but I just can't seem to muster up the courage to start
snapping pictures of strangers on the street (I think the only person who can truly
get away with that is
The Sartorialist
, and he is like a fashion god).
In lieu of photographs of actual people, I thought I would google-hunt
for some to give you a glimpse into the Chilean fashion sense.
The most noticeable thing has to be their pants. For the most part, they wear regular jeans
like you and me. It is clear, however, that acid-washed jeans are very popular here
and it is not at all uncommon to see girls rocking bright-patterned leggings (as pants).
It is kind of 80s I suppose. You also see a lot of linen pants, gaucho shorts, trapeze pants,
and some sort of combination of all three. This trend seems kind of weird but it really makes
sense with the weather here. Sometimes it is just wayyy to hot to wear jeans!
I am going to be very honest right now -- a friend and I actually bought a pair of these haha!
Maybe you will see a picture of me in them soon... when I get the cajones to wear them...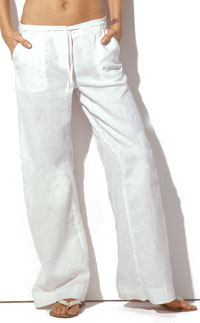 Sandals. Most people wear sandals.
However!!! Nobody wears flip flops! They are all these intricate,
gladiator-like sandals that definitely went out of style like three years ago.
They are not completely behind on every trend, though.
Everywhere you look girls are wearing high waisted skirts, tulip skirts,
and even those cute crop tops that stores like Urban Outfitters sell for like $70.

Discovering that these trends existed here really bothered me because,
before I arrived, everybody told me that Chileans were really conservative
and they never wore skirts or tank tops or dresses! I was pretty depressed since I practically lived
in tanks and skirts and dresses, but I ended up leaving all of that stuff at home.

Do not fret, my friends!
I went shopping in Patronato, which bears a striking resemblance to LA's garment district,
and bought a bunch of tanks and a couple dresses for like... almost no money at all.

Yay!

Maybe soon I will start to look like a real Chilean???