My family and I are
pretend-Asians
. Evidence: we live in San Gabriel, CA.
Last year when I took Asian American Race Relations,
I was shocked at how much my professor knew about the city I grew up in.
Apparently, the San Gabriel Valley is one of the most well-known Asian ethnoburbs
--which is a suburban residential and business area with a significant
concentration of a particular ethnic minority population-- in the state.
I have been going to school in Santa Barbara for almost three years now
and I am going to be completely honest: the thing I miss most about San Gabriel is
A S I A N F O O D ! ! !
My God, Santa Barbara is definitely lacking in that area.
I mean, IV has Little Asia (blandest Asian food I've ever eaten),
some white-washed sushi places (the best one used to blast hip hop and
was run by an all black/hispanic staff; it is now closed), and
even some Pho places (not really a Pho kind of girl...).
I am constantly dreaming about:
Newport Seafood's flavorful kung pao chicken,
Tokyo Lobby's crunchy shrimp tempura,
President Thai's delicious pad see ew,
and Din Tai Fung's juicy pork dumplings.
But if you know me at all, you know that
my biggest Asian-food obsession is
fried rice ♥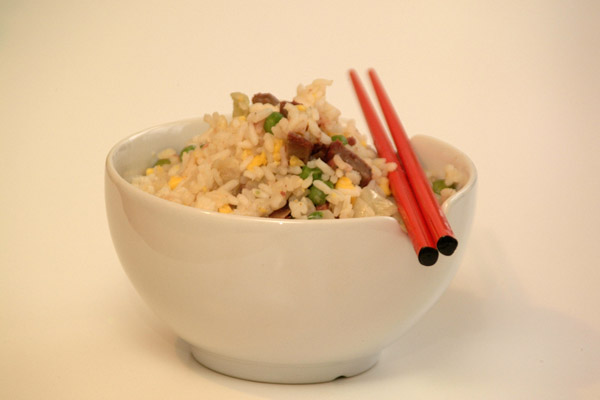 I love it.

I don't know why

, I just love it.
When you think about it, its just a simple side dish
but I think it always seemed magical/mysterious
to me because my family never made it. I remember I used to
get so excited when Señora Drew threw parties in my 10th grade
spanish class because that meant one of my
beloved classmates would be bringing fried rice
(shoutout to

Han Phan

, whose mother makes the
most delicious fried rice I have ever had, to date).
And that, my friends, is why I decided to accomplish goal
Did you notice that it is the first thing on my list? Haha :)
I noticed that I had the basic ingredients yesterday
so I looked up some simple recipes online and started cooking away!
boiled and drained chopped carrots & peas,
threw the veggies on top of the shrimp,
scrambled two eggs on top of that mixture,
added the rice to the mixture,
and then let it cook for a bit with some soy sauce.
The result was actually pretty good,
but not the standard of excellence I usually find in fried rice.
I don't think I "fried" it enough-- the texture was kind of off.
I also feel like I was missing some ingredient...
Anyway, this is a plea for help from all my
friends that have a tasty fried-rice recipe.
Can I have it? Can I have it? Can I have it?
Can I have it? Can I have it? Can I have it?
Can I have it? Can I have it? Can I have it?
(see
http://www.youtube.com/watch?v=kTFZyl7hfBw)
*Chris Tizzle and Kat Van, I'm looking at you...
facebook stalking tells me that you may know a
thing or two about making fried rice.
Can you help a sister out?